Filed under: Guest Posts Aug 2, 2016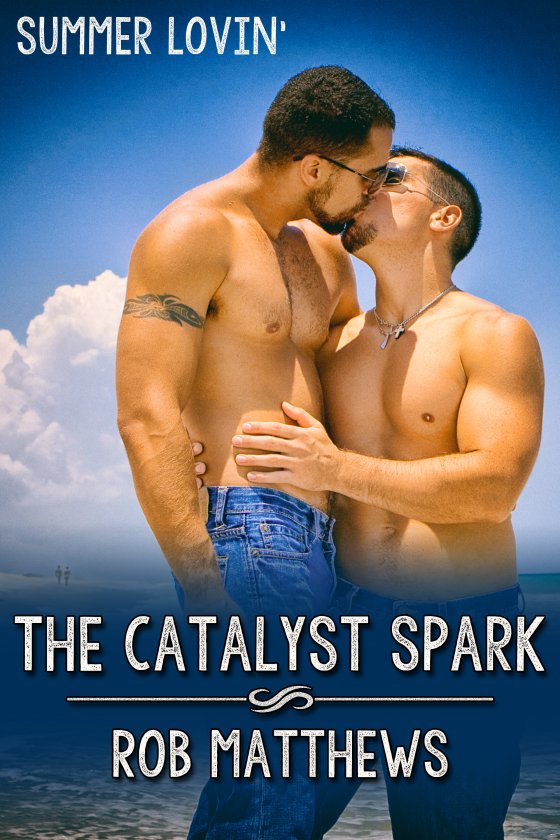 Today's guest is Rob Matthews, whose first e-book The Catalyst Spark was just released by JMS Books!
About The Catalyst Spark:
I wrote The Catalyst Spark by accident — almost.
I had been paired by some miraculous algorithm with J.M. Snyder, T.A. Creech, and J.D. Walker in a virtual cabin for the online writer's retreat Camp Nanowrimo. I had plans to keep my head down and write on my own, but suddenly I had these wonderfully generous writers cheering me on. Not only did I go to the JMS Books website and buy books by all three authors, but I also checked out the open submission calls and knew Summer Lovin' was the right spot for a story I had floating around my head.
I already had an idea on how the men in The Catalyst Spark would fall in love; I just needed to figure out who they were. The character of Marshall is a handsome, hardworking everyman. I found it so easy to write about Marshall because he's exactly the kind of guy I'd fall for in real life — sweet, well-intentioned, but largely clueless. Marshall's love interest Sean was based on an actual person. My husband and I were eating at a restaurant and there was this cute but frazzled waiter just dashing about. I don't even think he was our waiter, but I couldn't help imagining what his life was like. What motivated him to work so hard?
Once I decided to write about Marshall and I had paired him with Sean, I needed a setting. The project I had just finished (My Roommate's Dad, due out in September) featured Trixy's Diner prominently as the workplace of a confidante character, but I knew right away it fit much better in The Catalyst Spark. So I ruthlessly excised the diner from one book and put it into another, then put Sean to work. I could not imagine either story playing out any other way.
Blurb:
Marshall is going nowhere fast. His days are spent working hard as a landscaper and his nights are spent alone. He enjoys the comfortable rut he's settled into, but soon discovers fate has other plans.
Along comes Sean, a handsome waiter with a charming smile and checkered past who appreciates Marshall's kind heart as well as his stunning physique. Sean's charisma is exciting, and Marshall finds himself drawn to the waiter with a desire unlike any he has felt before. Is Marshall too naïve to know what pleasures await him? Is Sean the right man to teach him the ways of love?
Read an excerpt or buy a copy of the book today!
About Rob Matthews:
I spend my afternoons laughing and chatting with my weird and wonderful clients in a lively hair salon in Southern Indiana. My nights are spent in the company of Josh, my long-suffering husband of over a decade, and the three best dogs a couple of guys could ask for.
Find Rob online at the links below!
---