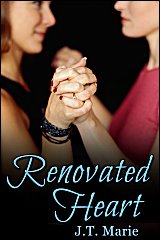 My latest lesbian romance Renovated Heart is now available!
Blurb:
Real estate agent Joanne McConnell has had her fair share of bad relationships. Her last girlfriend complained she spent too many long hours working and didn't focus enough on them. Now single again, Joanne still keeps too busy a schedule to meet someone new.
That all changes when she's babysitting for her brother and meets Edie, the contractor he's hired to fix up his home. There's no denying the instant attraction between the two women, and Joanne is more than ready to take a chance on someone new.
But Edie Davis, sole proprietor of Davis Contractors, was so badly burned by her last girlfriend that she's sworn off dating altogether. Edie won't let anything — or anyone — distract her from growing her business. She isn't lonely, she isn't, so she's more than surprised when she finds herself falling for Joanne.
Joanne's offer of a business lunch turns into a date on Friday night, the first in months for either of them. Things seem to be going so well for both ladies. Can Edie let herself trust another again? Or will her past relationships screw up any chance of a future with Joanne?