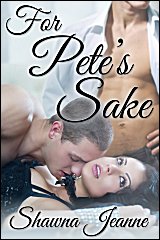 I'm going to let you in on a little secret. I wrote an MMF menage story.
It was something that was knocking around inside my skull for a few months, and when I finished up the YA novel I'd been working on for a while, I decided I'd give the menage tale a try. It came out pretty good, if you like a little womanly charms sprinkled in with your hot gay sex. But because it's so different from what I usually write, I felt I needed to publish it under a pseudonym. Yes, another one.
You see, J.M. Snyder writes gay erotic romance only. No girl parts in sight, as it were. J.T. Marie writes non-gay stories, true, but they aren't erotic. And J. Tomas only writes gay young adult romance. So it was time to fraction my writing personality even further.
Enter Shawna Jeanne.
The name, like the others I use, is derived from my own name. It's sort of a long story (and more than a little boring), but maybe one day when I really need a new blog post, I'll chat about it. At the moment, though, I wanted to let you know that you can buy a copy of the short story now on Amazon. It's called For Pete's Sake and is only available on the Kindle until October, when I'll release it through JMS Books.
What's the story about? I thought you'd never ask …
Sheila has always known her husband Pete is bisexual — his attraction to guys is part of what attracts her to him in the first place. But since they've been together, he hasn't been with anyone other than her, male or female. Still, she can't help but wonder if he doesn't miss sex with men.
Sheila wants to reward Pete for being so loving and faithful … and she'd be lying if she didn't admit that the idea of watching her husband have sex with another man turns her on something fierce. So she offers him a threesome, on three conditions: one, it only happens once; two, she gets to watch; three, and/or participate.
Pete jumps at the chance, but is hesitant when he discovers who Sheila has picked as their third wheel — his best friend Bryan, who has been half in love with Pete for years. When Sheila propositions him, he quickly jumps on board. But Bryan has never been with a woman before, and Pete's afraid their friendship will suffer once they have sex.
Will Sheila be able to juggle both men and pull off a hot evening for Pete's sake?
Pick up your copy of For Pete's Sake at Amazon today and find out!