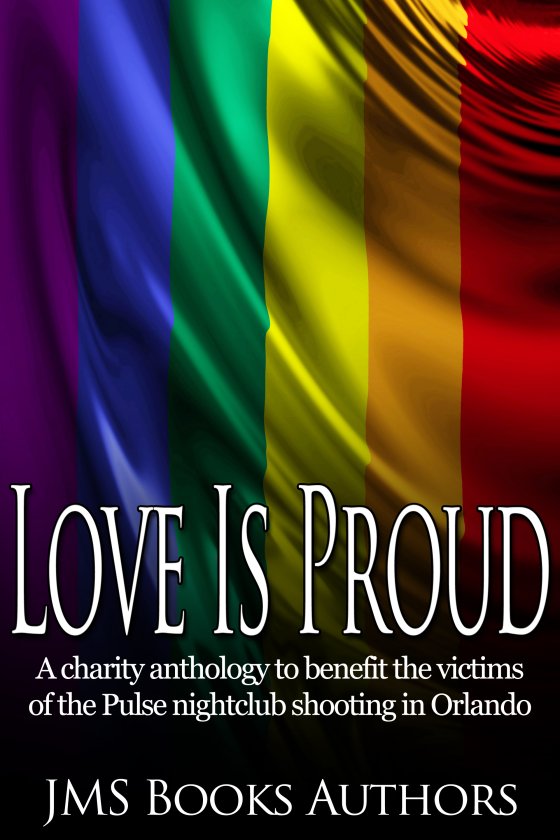 In the early morning hours of Sunday, June 12, 2016, a gunman entered Pulse, a gay nightclub in Orlando, Florida, and opened fire. Forty-nine innocent people lost their lives that night, and many more were injured.
The LGBT community reeled when the news broke, not only because it was the deadliest mass shooting in the US to date, but because the act of terror and hatred was aimed directly at them.
I realized I wasn't alone in this, so I decided to ask other authors who publish through JMS Books if they wanted to donate stories to a charity anthology.
I was overwhelmed by the response — fifty authors came together in a short amount of time to create a stunning collection of short stories (and a few poems). Editors also stepped forward to offer their time free of charge so that all profits could go towards helping the victims of the tragedy and their families.
Love Is Proud celebrates queer love in all its forms, showing that love must triumph over hate. Whether it's spending a quiet evening together at home, a night out on the town, or attending the local Pride event, this collection embraces how empowering love can be between men — or women, or any and every shade under the LGBTQIA umbrella.
Featuring never before published work from 49 different authors, Love Is Proud is a collaborative effort whose entire proceeds will go to Equality Florida to benefit the victims and their families of the Pulse nightclub shooting. All the work in the collection, including the editing, has been donated to offset the costs. This stunning anthology will be a charitable keepsake whose message of pride in who and how we love is an enduring testament to all those affected by this tragedy.