Filed under: Guest Posts May 19, 2016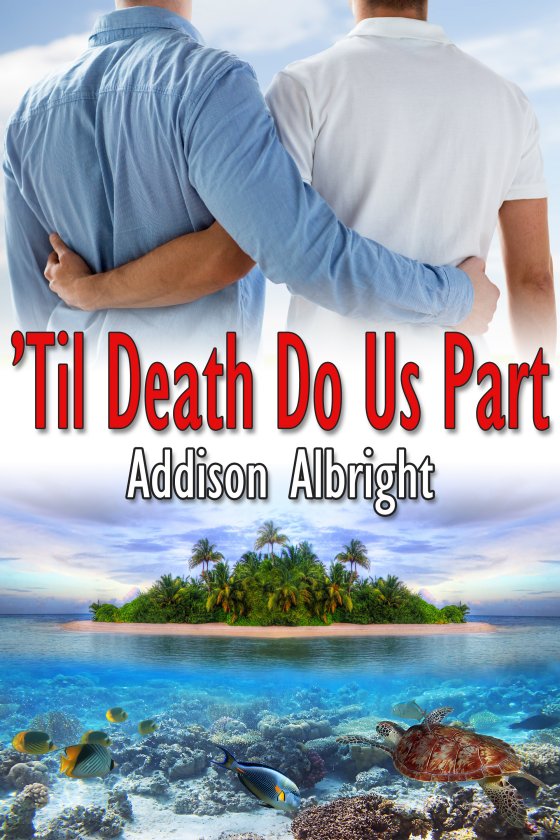 Today Addison Albright has stopped by to talk about her latest story, 'Til Death Do Us Part, which was released through JMS Books last month!
About 'Til Death Do Us Part:
I'm going to talk a little bit about my inspiration and models for "Buddy," who seems to be a favorite character according to the feedback I've been getting. The reader first meets Buddy in Chapter 1 as an approximately 9-10-month-old baby/tenacious airplane crash survivor, then sees him grow via peeks into his life at various points during the interval of time Buddy, Henry, and the other survivors spend marooned on their island.
Early last year, my oldest daughter gave birth to my first biological grandchild. When my daughter went back to work, I gained the privilege of watching my new granddaughter for a stretch of most weekdays. Oddly enough that's about the time I considered my life to be calmed back down enough to start writing again. So my granddaughter "Z" was my inspiration for including a baby in the story that was percolating in my mind.
"Z" was, however, way too young to be the model for Buddy's development and behavior. That's probably just as well. She's turned out to be a bit daintier than the great-niece and step-grandson that were my models for the younger, then older versions of Buddy. I can't picture "Z" rolling with the punches the way Buddy had to do to survive.
Visit
Blurb:
Henry and Sam Miller-Greene are living the dream. They love their careers — which afford each of them opportunities to travel to exotic locations — they love their home, Sam's caring family, and each other. They disagree on the subject of adoption, but are fully committed to each other in marriage … 'Til Death Do Us Part.
The dream is shattered when Henry's plane crashes and he's presumed dead. But four people — Henry, two other men, and a child — survive undetected on a remote, small, and insignificant island. Will Sam and Henry's love be able to survive, as well?
Henry fights to endure in harsh conditions, never knowing when disaster will strike. Sam struggles with his loss, but with help moves on with his life. Will Sam be able to put aside his new love when he reunites with Henry?
Read an excerpt or buy a copy of the book today!
About Addison Albright:
Addison Albright lives in the middle of the USA with three peculiar cats. Her stories are gay (sometimes erotic) romance, and tend to be sweet man-love in contemporary settings. Her education includes a BS in Education with a major in Mathematics and a minor in Chemistry. Addison loves spending time with her family, reading, popcorn, boating, french fries, "open window weather," cats, math, and anything chocolate. She loves to read pretty much anything and everything, anytime and anywhere.
Find Addison online at the links below!
---